Attention: Music Therapists, Students, and Educators. It's time to stop avoiding barre chords...discover now...
How To Play A Crystal Clear Barre Without Pain, Stress, And Hours Of Practice.
This step-by-step multimedia guide will show you the 7 secrets for a crystal clear barre
and the exercises that will get you there.
Price today: $47 $27
Today $7
Do barre chords frustrate you?

Would you like to see them and play them instantly and with confidence?

Are you worried that you'll never be able to play them comfortably, even though others seem able to do so without batting an eye?
I've surveyed dozens of music therapists, and the most common guitar frustration is barre chords. Here's what some of them said in an anonymous survey:
"I never mastered barre chords :o( That limits my choice of keys! Would love some tips on how to master those!"

"Barre chords (frustration; I tend to avoid them because I usually get wrist pain if I play them often)."

"Bar chords. I have short fingers!"
I've also surveyed music therapy internship directors, and barre chords are high on their list of deficient guitar skills for incoming interns.
What does this mean? It's a widespread challenge, and it's holding back music therapists and educators like you from being the best musicians they can be.
If you struggle with barre chords, it's not your fault. There are so many people trying to teach this skill that it's hard to know where to look and who to trust.
Many instructors or coaches say, "Just squeeze harder!" or "Practice 2 hours a day and it will come to you!".
This is bad advice.
I'm here to tell you there's a better, smarter way. You can leverage your strength, your physiology, and your time to produce a crystal clear barre, and you can do it with just 20 minutes of practice per day.
I've been researching and teaching this method for 5 years now, and I've built an effective approach for mastering these chords. It turns out that most people are very close to producing barre chords - they just need a couple tweaks in technique. You CAN do it, just like all my students have.
It was my research and extensive teaching experience that let to The Barre Chord Companion, the ultimate guide for producing a crystal clear barre. 
Some students have experienced major improvements with just a couple of tweaks in a manner of minutes. Even the biggest self-doubters have seen results within 2 weeks by just following the steps laid out in the Barre Chord Companion.
Your barre chord tips definitely helped me to produce some clearer barre chords. It's amazing how much adding barre chords into my playing expanded my repertoire - I used to just skip all the funky chords

Andrea Halvorson, MA, MT-BC

Wisconsin
Clean-Sounding Barres Are Within Your Reach.
By going through the 7 secrets, students find the technique tweaks that make their barring instantly better sounding and less painful.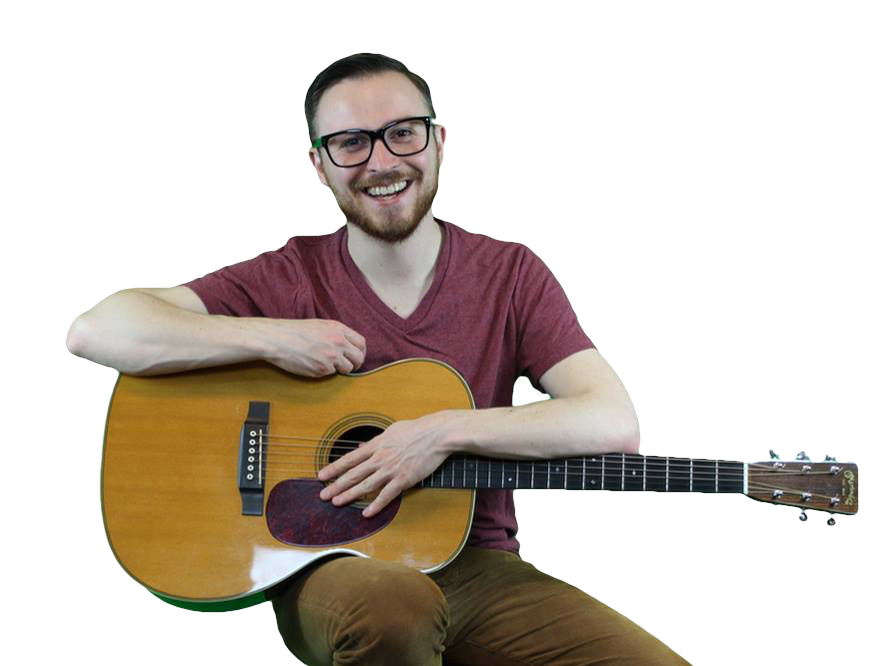 My Story
"When I first started teaching guitar, I had a problem. I could get students to the point where they were playing really nice open chords and some scales. But inevitably we would get to a song with an F chord.
I didn't understand how to teach barre chords yet, as I was quite young and I didn't know the technique secrets. For my students, even the small F chord was a challenge.
See, I was lucky, and I keyed into these secrets right away as a young guitarist. But I learned that "getting" barre chords naturally is more of an exception than a rule.
My students were frustrated:
"Are my hands too small?"
"Am I not strong enough?"
"Will I ever be able to play these chords?" 
I was frustrated:
"What gives? Why can't I seem to teach this?"
"Why does it seem so much easier for some students than others?"
For me to be an effective teacher, my students needed proven strategies that worked every time.
I dissected the problem. I analyzed what was working and what wasn't. It became very clear that "squeeze harder" and "practice longer" were not solutions.
I discovered that the solutions are rooted in easy technique adjustments and systematic exercises, and that improvement could be experienced in a matter of days, not weeks."
| | | |
| --- | --- | --- |
| | I've Made It As Easy As 1-2-3 | |
The Barre Chord Companion is a multi-media guide that walks you through the technique adjustments and exercises that can have you playing barre chords in a manner of days or weeks, NOT months or years.
View on all your favorite devices
The guide is a downloadable PDF with links to other media. Print it off, view on your computer, or save it to your tablet for quick reference.
Having Matt as my guitar coach gave me a huge advantage throughout my internship and career. Not having to worry about my guitar skills allows me to focus more on my clinical practice and better help my clients.

Andrew Holbrook, MT-BC

Louisiana
Finding the one or two technique adjustments that open up barre chords for you TODAY
Progressing through step-by-step exercises on your way to producing crystal-clear barres
Feeling your confidence increase as you apply these techniques to songs you play in your practice or teaching
Knowing that more impressive, jazzier-sounding barre chords are right around the corner
Moving beyond competence and truly excelling in your guitar playing
Matt taught guitar in our music therapy program for several semesters.  He is an exceptionally talented teacher and musician, and he knows how to help music therapy students develop guitar accompaniment skills.  Fortunately, with his Guitar Coach program, my current students can continue to benefit from his expertise.  I highly recommend this program to all of my music therapy students, including those who are struggling and need additional support and practice, as well as those with solid foundational skills who can improve musicality through more advanced skills.

Mary Adamek, Ph.D., MT-BC,

The University of Iowa
The Barre Chord Companion reveals...
Tips you need to know before you ever get started
7 barre chord secrets, some of which you may be close to doing already
Video tutorials and pictures for a multi-media experience
A step-by-step exercise for achieving a crystal-clear barre
The steps you need to take to go from producing a clear barre to implementing new and interesting chords
Discount offer: $47 $27

Right now: $7
Try it risk free: I stand behind my products. If for any reason you're not 100% satisfied, let me know and you will get a full refund with no questions asked.
You might be wondering why this guide is only $7. Can it really be that helpful? Here's why:
I want this to be available to anyone, regardless of where they are in life. I remember being a high school or college student, when $50-100/hour for guitar lessons was not only difficult, but actually impossible. With the Barre Chord Technique Guide, you can make a ton of progress (several lesson's worth) for about the price of a pack of guitar strings. For $7, it's not too expensive for anyone who is ready to conquer barring.
So why isn't it free? I'm interested in working with people who are serious about improving their guitar skills. Investing even $7 shows me (and importantly, shows YOU) that you believe in yourself and are ready to tackle this.
I see this as the beginning of an ongoing relationship. Once you see what you can accomplish with just a little $7 guide, I know you will want to continue maximizing and streamlining your learning with me.
So if you're serious about mastering barre chord technique once and for all, click "Buy Now". For the price of a pack of strings, or two fancy lattes, you can be producing a crystal-clear barre.
Guitar lessons these days aren't cheap. The least-expensive instructors out there would laugh if they were offered $7 for a lesson.
On top of that, it can often be a gamble with regard to quality of instruction. Even amazing guitarists can be lousy, disinterested teachers. They are usually teaching out of necessity, not out of passion.
I want you to have this guide, and I want you to get every drop of value out of it. I'm excited to be your coach, and I want you to come back excited to learn more!
With this resource, you will save...
...TIME because you can access it whenever works for you, with no driving to lessons, no small talk, and no ill-informed tips or strategies
...MONEY because it is much less expensive than even one in-person lesson and you will have access to the materials forever once downloaded Once you get past this hurdle called "barring", you can move on to much more interesting things!
| | | |
| --- | --- | --- |
| | You Get To Make A Choice... | |
It is now up to you to decide. You are either going to maintain the status quo, or you will start your journey to playing effortless barre chords.
You can meet this challenge head on, or avoid barring for the foreseeable future.
I was talking with a music therapist the other day who had 15-year-old client who played barre chords better than her. She had never learned the tips shared in this resource. But now she's taking matters into her own hands and is working through the Barre Chord Companion. I congratulated her, because she is doing something about it!
Discount: $47 $27

Right now: $7